Passive income is basically a constant drip-feed of extra earnings that doesn't tie you down to a set amount of regular working hours. The key lies in low-maintenance side hustles that sell several times apiece!
Passive income is a bit like pocket money for chores: the more time you put in, the better the payoff. Either way, you've got nothing to lose by having a go, and could set yourself up for extra cash every year – no overtime required.
#1. Sell stock content.
Websites, advertisers, self-publishers and app creators all need secondary content, from images to music, video and sound effects. If you spend your spare time snapping, sketching or singing anyway, this could be the route for you.
How do you create content?
Go through work from previous projects – chances are you already have a ton of unused pictures and video footage.
If not, get creating! Take photos, film short clips and get your musical head on.
You can also make the most of the time you spend socialising. Snap a pic of that frothy hot chocolate your mate is digging in to, or the beautiful sunrise you've just seen on the way back home from a night out!
How to sell your content online
Upload your work to several stock library sites for users to browse, pick and pay for.
Royalties are typically low so you'll need to build up a bank of work before it starts paying off. It's also worth checking what's trending or is always in demand and submit on those themes.
You don't need to be a pro to successfully sell stock content: niche ideas are in just as much demand as flawless execution. Think photos, logos, jingles, stickers, icons, buttons, banners and beeps. The sky's the limit!
Brands are always looking for content that helps sell their product, so who you're aiming your content at is also one to bear in mind.
Online libraries for stock content
While not as simple as using a stock site, you can also sell music and sound FX through iTunes and SoundCloud, and anything else through your own site/store. Some sites will ask you to submit your best samples before they'll accept you as a contributor. If one site says no, move on to the next one!
#2. Write an eBook.
If your passion is publishing, then digital has to be worth a punt – the online publishing process is relatively straightforward and risk-free.
Playing your cards right with online publishing could bring in some cash and set you up well for the future (being able to link to your eBook on your graduate CV is pretty impressive!).
How do you write an eBook?
Your secret stash of short stories is always a good place to start. If you're in it for the money rather than the Pulitzer, see what's selling and work back from there.
Check the best-seller lists but don't fixate on fiction. There's a chart for everything, from politics to poker, so if there's a topic you know (perhaps something related to your studies or a hobby?), use it.
Make use of your Insta capital too. If you have a strong online presence and you're also a bit of a skateboard pro, why not focus on a "how to skateboard like Tony Hawk" page-turner.
The main publishing outlets take .doc files (check out some free alternatives to Word), but if you want a bit more say in your book's looks – and are HTML savvy – grab the free Sigil eBook editor. Amazon has tools for comics and kids' books, too.
Once you've got a file, you need a platform. To get listed on Amazon you'll need to take the Kindle route.
For everywhere else there's Smashwords, which distributes to a whole host of stores including Waterstones and iBooks. Go with both platforms to maximise your coverage.
How do you get your eBook on the market?
Easy peasy. The trick lies in being discoverable. Banging out a few words and sticking a cover on them doesn't make a best-seller – you'll need to really focus on getting it noticed.
In this digital space, people often do judge a book by its cover – so spend time making it look professional. There's a ton of free image editing software out there you can use to do this.
Also, ramp up your book's description and keywords to boost your chances of being found online and to encourage sales.
But, most importantly (with Amazon anyway), you need to get your book lots of genuine reviews. The easiest way to do this is to leave a note at the end of your book asking or incentivising readers to leave a review (hassle your family and friends to get the ball rolling if needs must!).
#3. Build your own app.
In terms of passive income ideas, this one's a pretty cool choice and the question isn't whether you'll make a million (it's unlikely, sadly), but whether you need to be a coding ninja. The surprising answer is: nope.
How to build an app
If you've got a functional app in mind (i.e. it 'does something', or extends built-in messaging, camera or system tools) you'll need to speak some kind of computer lingo – or, find someone who does and split your profits.
Until then, MIT's free browser-based App Inventor lets you drag and drop 'building blocks' instead of churning out code.
If games are your thing, it's possible to create professional apps – from Sonic-style endless runners to Angry Birds-esque physics puzzles – with next to no coding.
You'll need to get your hands on a 'game engine': a bit of kit that helps you design, develop and deploy apps right from your desktop.
There are several out there, including a free app called Unity, which is drag-and-drop friendly and supports multi-platform publishing (build once and launch to iOS, Android and PC at the same time – a must if you want to maximise potential sales).
How to make money from apps
You can make money by charging for your app, having in-app purchases (extra lives, hints or episodes) or by running ads.
However, you'll lose a chunk of each sale in store fees – and for Google Play and iTunes, you'll need to pay a developer fee upfront to list your app.
While you don't need to be an uber-geek, it helps to be an avid app user for the market you're going after. Having a couple of cross-platform phones/tablets is handy – but there are plenty of ways to test on virtual devices if not.
Take note of what you don't like about the apps you regularly use, or if there's a feature that isn't already out there. Finding a niche is hard, but it could be your way into earning the big bucks.
If you're serious about making money while you sleep, you'll need to push at least a couple of apps out there.
#4. Affiliate marketing.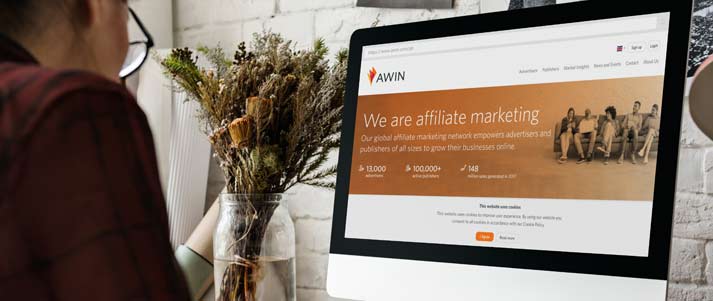 How does affiliate marketing work?
Affiliate marketing-based websites are basically sites or blogs that plug products and businesses on other sites for a cut of the sale.
You need to add special tracking links on your own website, or pop 'em out through social media. If someone follows your link – and buys the item – you get a referral fee.
Best of all, you don't need to faff about with storing and shipping the products, as the stores take care of that themselves.
Affiliate marketing has the potential to become significantly more than a passive earner for you, but you'll need to invest a lot more time and effort to get to that stage.
Loads of retailers have affiliate programmes – a quick Google will set you on your way – but if you join a network, you'll only need to sign up once to get access to a range of stores and products. This means you'll spend less time clicking and more time making dollar.
Try Awin for starters.
Best ways to make money from affiliate marketing
It works well if you've got a site, store or social account that already has some traffic, and if the products you're linking to tie-in with your existing posts.
Post reviews on your blog for anything you buy online and include 'buy now' links. Or add a page for a 'bookstore' featuring your favourite titles and the reasons you rate them.
Good reviews are to-the-point and tend to include relevant details about what you liked about the product and why it's worth buying. It should be more than a single paragraph, but not so long that you lose your reader to sales jargon.
#5. Print-on-demand products.
The last of our passive income ideas is a bit of a student classic.
From t-shirts to baby bibs, there are scores of stores that sell customisable gear and gadgets: the opportunity lies in selling your inspiration to other customers.
How to sell print-on-demand products
One of the best-known marketplaces is CafePress, which sells just about anything that has a blank surface. Whoever you go with, sign up for a seller's account (to sell via the store) or a shop account (to sell from your own site).
Upload your best illustrations, photos or jokes, and pick which products can be customised with your art. If someone buys an item from your range, you get a cut of the sale – without having to manufacture, stock or ship anything.
You don't even need any ideas of your own: if you're fresh out of inspiration, you can list other people's custom products for a referral fee instead.
Go for cute or funny images, logos and quotes that work on multiple products. The simpler, the better.
It's also a good idea to get snapping your creations and promote them across social media. Get your friend to wear a t-shirt with that hilarious quote you thought up and share it with your followers.
Most of the sales platforms we've mentioned are free to list with, but they'll each take their cut in their own way – check it out before you sign up.
There may also be international tax forms to wrestle with if you don't want the relevant government syphoning off their share of your takings. In the meantime, get to grips with UK tax rules.