Today I'm gonna show you how to make money on Pinterest.
In fact: These 8 strategies in this post helped Jacob to Earn $8,148.46 within a Month…
You were probably searching for how to earn money using Pinterest or how to make money on Pinterest, weren't you? Or maybe you were intrigued by the idea of making money on Pinterest.
There are many ways to make money with Pinterest, and as the network continues to grow, your opportunities will grow too. There are opportunities for bloggers, virtual assistants, affiliate marketing directly through Pinterest, and more.
And today I'm going to show you the exact 8 strategies that Jacob used to get these results.
How much money can you make on Pinterest?
Your time is valuable, so is it worth your time to learn monetizing strategies to make money on Pinterest? How would you react if I told you that you could make $20, $50, $100, or even more than $200 PER DAY on Pinterest?
And nope, these side hustle ideas don't require experience at all.
I personally started with absolutely no experience but eventually learned how to earn money with Pinterest during my spare time to make money online!
1. Affiliate Marketing on Pinterest.
Affiliate marketing is when you partner with companies to promote products and/or services. The company gives you a unique link (affiliate link) that you insert in your posts or pins. When someone clicks on that link and makes a purchase, you're paid a commission — this is called making a conversion.
Affiliate marketing is one of several different ways that bloggers make money, but it's also a legit way to make money on Pinterest. You can find affiliates through networks like Amazon Associates, Click Bank, CJ and more. Once you have affiliates to work with, you create pins with affiliate links in the text.
Here are a few really important things to know about affiliate marketing on Pinterest:
There are some companies that don't let you post their affiliate links on Pinterest, so always check with company's affiliate manager and read the rules of your contract.
Some companies will not allow you to take images from their site to be used when creating pins, even if you are an affiliate. Amazon is one example.
When posting affiliate links, Pinterest does not want you to mask or shorten the affiliate link. They want you to be as transparent as possible.
You always need to disclose your affiliate relationship. This is required by the FTC. The easiest thing to do is put #affiliate or #affiliatelink in your pin.
And possibly the most important point: Pinterest has changed their stance on affiliate marketing several times already. They allowed it in the beginning, banned it in 2015, and now it's allowed again. I bring this up because when you are making money on another platform, your income is dependant on that platform. A change in Pinterest's policy could be devastating to an affiliate marketer who was making money on Pinterest alone.
So what to do? I'd start by diversifying your streams of income, and starting a blog is a great one for someone with a large Pinterest following already. There are also other social media platforms that might be good fits too, like Instagram and Facebook.
I still think affiliate marketing is a great way to make money with Pinterest for anyone interested. You can bring a lot of value to your follower's lives by promoting the products you love. Affiliate income makes up a big part of my blogging income, and I feel really good about the companies and products I promote.
If you're interested in learning more about affiliate marketing, whether it's on Pinterest or through your blog, I highly recommend that you check out my good friend Michelle Schroeder-Gardner's course Making Sense of Affiliate Marketing. She regularly makes around $50,000/month from affiliate marketing alone, and she's done it all without selling her soul.
2. Build an Audience and Sell Your Products to them. What are you passionate about? If people are spending money in an area you love, you can make money.
Let's say you're a fitness junkie. You love being fit, and staying fit. You choose a target audience: women in their twenties who want to be fit and attractive. Create a Pinterest account and boards that attract this audience.
Get followers to your boards, and create a mailing list. Some keen Pinterest users have a million followers and more. You don't need that many followers to your account to sell to your audience. If you don't know what to sell, don't worry. Once you have a few thousand followers, marketers will approach you with offers.
3. Use Pinterest to drive traffic to your ecommerce site
If you have an ecommerce site, whether it's through Shopify or Etsy, you can drive traffic to your site and make money with Pinterest. Again, you're not directly making money from Pinterest — you are leveraging Pinterest's powerful search engine.
Here's why Pinterest is an important tool for your ecommerce site:
90% of users say that Pinterest helps them decide what to buy
78% say it's helpful to see content from brands they see on Pinterest
66% buy something after seeing it on Pinterest
Pinterest brings in 33% more traffic to shopping sites than Facebook does
You can read more data from Pinterest here.
If you're an online shop owner, you can utilize Pinterest in the same ways that bloggers do. That's creating pins to promote new products, putting together boards for different styles or themes, doing keyword research, etc.
One thing I didn't mention that's a huge asset to ecommerce owners who want to learn how to make money on Pinterest is something called Promoted Pins. These are basically Pinterest's version of Facebook ads. They look like normal pins, but they're actually an ad.
You can optimize your Promoted Pins to meet different goals (traffic, brand awareness, app installs, etc.) You can choose to place ads in browse mode. But you can also do it in search mode, where you would pick the keywords a user would need to search to see your ads — this is a valuable position because you're getting ads in front of people who are searching specifically for your product, or at least ones like it.
M$M tip: If you want to learn how to make money on Pinterest by running Promoted Pins for your site, I would check out the Pinterest VA course mentioned earlier. There is an entire section on Promoted Pins, and you'll learn a lot more about utilizing Pinterest for your own business needs.
4. Choose a company to promote, and ask for sponsorship.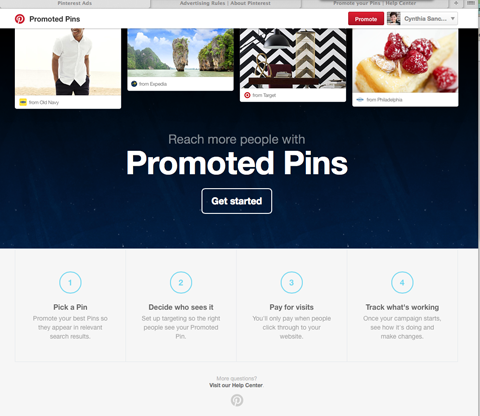 Target a group, and build your Pinterest followers as we discussed above. Then select companies offering products that appeal to your audience. Staying with our "fitness" audience, you could approach companies that sell gym machines, or sports drinks.
Share your Pinterest account's statistics with the companies you approach, and ask for sponsorship. Offer them a deal: they can use their branding on your account for a year.
For pinners with a decent sized following (this kind of thing is hard to nail down because it's about the number of followers and the quality of each follower), this and the next two ideas are great ways to make money with Pinterest. Don't worry, I've got tips for growing your Pinterest following at the end of this article.
Curating a shared board with a brand means you work with company and they pay you, usually a flat fee, to create a board for them on Pinterest. Not only do you get paid, you end up gaining some followers and views from people who are looking at companies that align with your personal brand and niche.
6. Do a joint promotion with a brand.
This is when a pinner works directly with a brand to create pins that promote the company's products. It can be product placement things, like "10 ways to repurpose Coca-Cola cans" or "5 epic Airbnb vacations." I don't know if either of those brands do joint promotions with pinners… this is just an example.
To make money on Pinterest through a joint promotion, you'll need a successful account and be able to create really awesome pins, which would include:
The concept of the pin
Photography
Brand placement
Design of pin
If you're looking for brands to work with, Pinterest recommends checking out the Pin Collective.
7. MAKE MONEY BY OFFERING PINTEREST CONSULTING SERVICES.
If you're good at using Pinterest, you can make money by offering consulting services to other people or companies. You can even earn a full-time living through Pinterest consulting.
These services include providing an in-depth review of your client's Pinterest profile, website, and analytics. You'll then put together a list of suggested recommendations to help your client achieve their goal. Pinterest consulting is becoming more popular and can be a great way to monetize your social media skills.
Having your own self-hosted website and Pinterest account is essential to helping others to find out about your services and see your work in action. You can share testimonials on your website from previous clients and showcase your knowledge too. Having your own website also helps to legitimize your consulting services because it looks more professional.
8. Teach people your Pinterest strategy.
When you get really good at any of those ideas above, the next step is to make money on Pinterest by leveraging your Pinterest knowledge.
If you managed to find several brands to work with you, other pinners will want to know how. Created a number of successful Pinterest campaigns for different clients, give people that knowledge.
You can monetize your Pinterest knowledge with courses, ebooks, coaching, etc. Having a blog will help you share your journey and reach other people who want to do the same.
If you don't have a blog yet and are interested in starting one, Launch That Blog is a free service that:
Helps with the installation and set-up process of a WordPress blog
Teaches you how to use it
Helps you make it look awesome
Makes sure you have the essential tools ready to go
The only thing you need to pay for is hosting, which is only $2.95 per month through Bluehost. Seriously, that's it. Click over to the Launch That Blog page to learn more about the service and bonus freebies.
Tips for making money on Pinterest
Now that you know how to make money on Pinterest, it's important to stay on top of growing your Pinterest audience, and here's how:
Create eye catching pins
Pinterest is a visual tool, and your pins need to stand out. And if you're also trying to make money on Pinterest, then they definitely need to look professional.
Fortunately, it's easier than ever to come up with creative, high-quality images for your pins. Canva is a free tool for creating digital images for Pinterest, Facebook, Instagram, but you can also use it for flyers, invites, business cards, etc. Canva is super easy to use, and there are lots of free designs that you can edit with your own text and images.
Know how to describe your pins
Pinterest is a search engine like Google, so you want to describe your Pins using searchable keywords. Start by looking at the pins that pop up in the top of your feed. I bet they're simple and to the point descriptions. That's what you want.
You can do some easy keyword research in the search bar. Start typing something related to your niche. If you're a cooking/food based pinner, start with a search for "how to cook" and let Pinterest fill in the rest. What pops up will show you what people are currently searching for.
Using hashtags is also really useful for searching for things, so don't forget to add those too.
Interact with other pinners
Pin other people's pins, click their follow links, etc. Pinterest is a search engine, but it's also a social media platform. This is an overall best practice on Pinterest. It says, "Thanks for following me." You can always unfollow people if you don't like what's showing up in your feed.
Make sure you have a business account
I've said this already, but if you want to learn how to make money on Pinterest, you need a business account. This is a must do if you want to reach out to any brands for partnerships, affiliate links, etc. Business accounts are free and give you access to analytics, among other things.
Use Tailwind to schedule pins
Tailwind is a marketing app that was created just for Pinterest and Instagram. It can help you with analytics, promoting Pins, but one of the things it does really well is helping you create a pinning schedule.
It costs $9.99 a month, and pinners swear by it.
Have a press or media kit
Media kits tell potential partners key facts and statistics about your blog, business, or Pinterest following. Having a media kit is one of the easiest ways to tell people what you can offer their business.
You can use Canva for your media kit too, and it should include:
A short bio about you and your business
A list of your services
Number of impressions and/or following
Information about your audience
Always be transparent about your partnerships
This is another one I've already said, but it's too important to overlook.
If you are using affiliate links or partnering with brands in any capacity, you have to let your audience know. The FTC has clear guidelines about this.
All it takes is a simple #affiliate or #affiliatelink in the text of your pin to fulfill the FTC regulations.
Follow Pinterest's guidelines and best practices
To stay on the up and up as you make money on Pinterest, respect the platform by following their guidelines. You can find Pinterest's Community Guidelines here, and it's for both business account owners and personal users.
Learn about changes to the platform
Pinterest has changed a lot since they started in 2010. Those changes can affect the way you earn money through Pinterest. To learn about them, read emails they send and check out Social Media Today.