Now more than ever, a full-time job feels like a bonus, not a guarantee. You can have the best work ethic in the world and top-notch performance reviews, but if your employer decides to cut costs, you could still be laid off — no matter how good you are.
So how do you take back some control over your work and your income? Take your side-hustle and turn it into a full-time job!
I'll show you the keys to making this transition a successful one, so you can stop worrying about your job and start worrying about your business.
Work hard
Obvious, maybe, but essential. Essentially, there are two ways to increase the income from your gigs: work more hours, or charge more money. You should start with the first so you can figure out how to do the second.
With the practice that comes along with working more hours, you'll improve your skills at your chosen hustle. Take time every week to mentally review what went well and where there's room for you to improve. Then, the following week, look for opportunities to get a little bit better. Each time you improve your skills, you're making the service you offer more valuable to your customers.
Look for opportunities
To succeed, you'll need to find what makes you stand out from the pack, and then lean hard into that. Think about what you're good at and figure out who needs you.
I have a friend, Anna, who details cars on the weekends when she comes home from college. She would clean her parents' cars for a little extra spending money, and with practice, she learned how to do a really good job. Her parents told their friends, who were too busy with work and family to clean their cars, and that's how she picked up a few more jobs, and a few more. Now she's got a side gig.
If you're a dog-walker, you could pick up dog-walking and dog-sitting gigs for friends and neighbors. But people who don't know you might need your service, too. Get to know where the area's dog owners hang out — sidewalk cafes and dog parks, possibly? Those will be good places to stash a flyer or strike up a conversation. 
If you've got killer Instagram instincts, there are small businesses that need social media managers. Get in front of small-business owners who are struggling and strike up a friendly conversation about how you can help.
Note your niche
As you add more clients, ask them to pass your name on to friends and colleagues if they like your work. (If they don't like your work, ask why, and make improving your number one goal.)
Not everyone will hire you, and that's OK! You're not trying to find every client — just the right client. That's because if you can find a way to specialize a little bit, you can find a way to stand out from the pack — and that lets you charge more money.
Take notice of your best customers. What do they have in common? Where can you stand out?
The car detailer
In Anna's case, her best customers were parents. Not her own parents — parents in general. Why? Because they loved having a sparkling car, but they were too busy with work and family to do it themselves.
It's the perfect niche for Anna's business: they have a need, and she has the solution.
The dog walker
The same concept applies to the dog walker. Paying close attention to what your customers need will pay off. If you notice that clients are frustrated by their previous experience with flaky dog-walkers, you now have something to focus on.
You could invest in certifications or training, to give customers peace of mind about their pups. Work hard to create a reliable, dependable schedule, providing your clients with stability.
Then you can advertise these qualities as you're looking for new clients, and stand out as the dog walker who goes above and beyond to make your customers feel relaxed and secure.
The social media maven
For the side hustler who prefers to work at home, standing out is something you'll do online, not in person. Show off your personal style. Share before-and-afters. Look for businesses that are a match for your personality. Give your future clients an idea of how you can help their business look good online.
Scale it up
Scaling up your business is the final key to taking your side-hustle into full-time territory. You've perfected your skills and targeted a particular set of customers, taking care to solve their most pressing problems. Now look for ways to expand.
Add more value
For Anna, she could offer car detailing at home or office. She could also offer early morning, evening, and weekend appointments. The flexibility and convenience may be worth triple to her clients. They know that however crazy their lives might seem, Anna is ready to help put a tiny corner of it back in order. If Anna hires another friend to help her, she's doubled the number of cars she can handle — but her prices have tripled, so there's still room for profit. 
As a dog walker, you could add more services to your menu, such as dog baths, nail care, or playtime, increasing your earnings from each client. You can also offer dog-sitting or private doggy daycare.
If you're a social media manager, you can offer content creation in addition to managing social media accounts, such as blog writing or graphic design. Or if your skills lean toward the organizational, you can offer virtual assistant services to your clients, as well.
Boost your professionalism
Take the time to be as professional as possible. Naming your business and having a logo will go a long way toward gaining respect. Secure a social media presence, create a LinkedIn profile, and even create a website. Marketing your business as a professional one will make it easier to secure more clients outside of word of mouth.
Invest some of your earnings toward licensing or certification, if it exists for your industry. Also, consider investing in better equipment that will help you do a better job in less time.
Your clients will take you as seriously as you take yourself.
Start saving now
Before you take the leap from a full-time job to self-employment, you'll want to make sure you build up the best foundation that you can.
Create or continue your emergency fund
If you haven't yet, now's a great time to fill out that emergency fund. Start funneling extra cash here so that you have a buffer of protection later.
If you're looking for a new account, check out the CIT Savings Builder. You can earn 1.45% APY when you deposit $100 each month or you have a $25,000 account balance.
Set up your business banking
Next you're going to need to take the time to set up all your banking needs for your business.  
One great fee-free business account option is Bank Novo, which not only eliminates all fees for business checking and savings, but also refunds any ATM fees. Using the mobile app, you can easily transfer money and deposit checks. The app integrates with the most popular business apps to make it easy to track spending and pay vendors.
As a Bank Novo member, you'll also get access to perks that can help any business starting out. Those perks include discounts and credits for services like Google Cloud, Zendesk, HubSpot, and Salesforce Essentials.
Also, make sure you have a business credit card. This makes buying supplies and materials online much easier.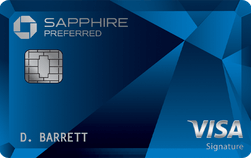 One of the best cards in my opinion, (although it's not technically a business card) is the Chase Sapphire Preferred® Card.
For one, it comes with one of the best bonuses in the industry: 80,000 bonus points ($1,000 in travel rewards)
once you spend $4,000 on purchases in the first three months. As a business, meeting that spending requirement should be no problem.
Plus, you'll earn 2x points on travel and dining, plus one point per dollar on all other purchases.
Summary
Going from side-hustle to full-time job is not impossible, but it does take some planning and hard work. Assuming you're not allergic to either, you can lay out a strategy for turning your occasional gigs into a true small business.
Focus on learning as much as you can while you still have a day job, and funnel your resources into providing the best possible value to your target customers. They'll thank you, and you'll sleep well knowing you're in control of your future.